The word 'mind' can be used in different forms. However for this forum it will be used to as a noun.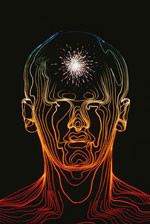 In this sense, the mind is the untouchable part of our inner world that understands our surroundings and includes our thoughts, feelings and behaviours.
Papyri is a material from a plant used before the development of paper to write on in ancient Egypt and Mediterranean communities. This material is believed to begun to be used over three thousand five hundred years ago have been found to have mention of mental health disorders.
Mental health and associated behavioural difficulties have been around for a while and are mentioned even in the Old Testament.
Yet even today there is a lot of uncertainty and misunderstanding over this area of health. In the Morden era , technology and better understanding have led to improvement in treatments.
Psychiatrists, mental health care professionals including mental health therapists and mental health counsellors lead the way in this field.
For the everyday person, knowing and understanding mental health is very important.
On this site you will find most of what you will ever need to keep your mind in health and when things go wrong to find the right help. The site will look into mental health disorders from the well known such as depression to others that are less understood such as somatisation and even the more rare ones.
Inevitably it will be a one stop shop for all things mental health. If you need a mental health therapist or mental health counselor, visit us first. If you have a burning questions about mental wellbeing just ask.
Plumbrains is the home of mental health disorders and mental well being.
Look out for plums as they contain valuable information and resources!!